First of all, what reminds you of your Mum?  The link between my daughter and myself is Dragonflies.  The reason they are beautiful, delicate, give you a hint of Summer and the joy therein, but do not live forever.   Other people, when they think of their mothers, see beautiful flowers, blooms and blossoms, happiness and butterflies.
So what would you buy a mother who you are reminded of when you see a butterfly?  Papiliones by Jonathon Bradley would be an ideal gift.
Papiliones by Jonathan Bradley is a collection of poems inspired by butterflies, as well as the stories behind their often unusual and exotic names, and colour photographs.
In this charming collection, the poems evoke both the colourful lives of these lovely insects and the emotions that they arouse in us.   These poems made me think about these beautiful creatures and the short but fantastic lives they live.
Sample Poem
Large Blue
The Clergyman,
The Lawyer's son
Nannies, grannies
with flowered hats,
and ribboned plaits,
mad professors,
priest confessors,
the curious,
injurious,
all came to look, 
around Millook,
or Morwenstow,
where west winds blow
for Maculinea Arion
to satisfy their predilection
for butterfly collection. 
The Large Blues were pursued,
From Boscastle to Bude.
Their bodies pinned,
Their numbers thinned. 
Each poem is unique, frequently inspired by the unusual scientific names given to them, which are often poetic in themselves.
The poems lead the reader on a journey of discovery of these delicate creatures, each poem and each butterfly a new delight. Profit from the sale of this edition of Papiliones will be donated to the Butterfly Conservation charity.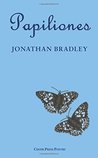 Papiliones by Jonathan Bradley
My rating: 5 of 5 stars
In addition to the fantastic photos I found the poems were very thought provoking. An ideal present for Mothers Day. Great facts about the butterflies portrayed in the photos and beautiful poems linked to each. Highly recommended for those who love poetry and also facts about Butterflies.
View all my reviews   On Goodreads
In conclusion, I would highly recommend this book.   Beautiful gift to give someone
Please follow and like us: